Digital Continuity
Linking all processes between design and production
Key principles in Industry 4.0
Industry 4.0 is a name for the trend of data exchange and automation in manufacturing technologies.
Within the modular structured smart factories, cyber-physical systems monitor physical processes, create a virtual copy of the physical world (Digital twin) and make decentralized decisions.

Four pillars
Interoperability: Connect machines, devices, sensors and people to communicate with each other
Digital simulation: Create a virtual copy of the physical world. Play with "What-if" scenarios in the virtual world in order to identify the optimized physical flow
Convert data into information: Aggregate raw data from cyber-physical systems to build and visualize comprehensive information that allow humans to make decisions based on facts
Decentralized decisions: the ability of cyber physical systems to make decisions on their own and to perform their tasks as autonomously as possible
From electrical design to delivery flow
While it might appear complicated from outside, Industry 4.0 is merely a logical extension of the increasing automation and connectivity that has been part of continuous improvement processes for decades.
In some ways, much of the information already exists within a Design to Delivery flow. But these are isolated islands without opportunities for communication.
Digital continuity from design to production
By creating a digital twin of a Printed Circuit Board Assembly (PCBA) and the manufacturing/test machines, engineers ensure digital continuity by linking all processes between design and production.
This minimizes the need for physical prototypes and reduces the risk of costly design errors, resulting in significant cost savings and a faster New Product Introduction (NPI) process.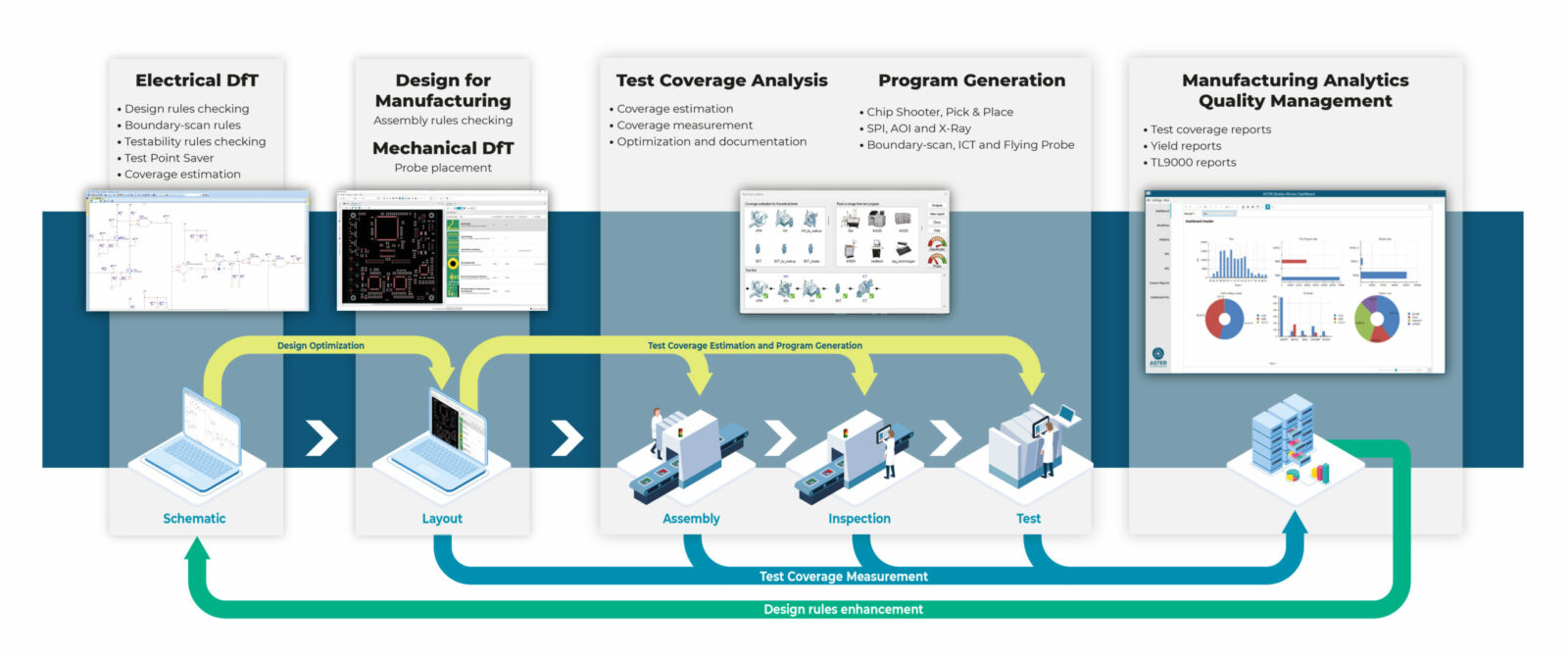 Qualify the customer defect universe using traceability and repair loop. This universe includes not only manufacturing defects, but also design and functional defects.
Simulate the manufacturing flow from schematic or layout file in order to identify the possible consequences of inadequate testability and test coverage on a new design.
By leveraging on ASTER-powered digital twins, companies guarantee PCBA fabrication and improve test coverage to limit the risk of undetected defects, thereby reducing field failures and costly recalls.